Margy Mahnken
November 25, 1931 - January 15, 2022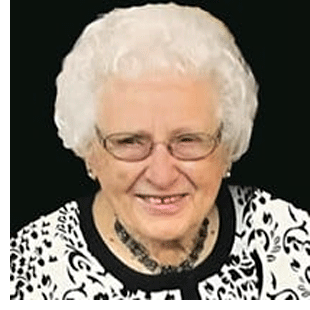 Margy Jean Mahnken (Knehans) took her Lord's hand on Saturday, January 15, 2022 at Western Missouri Medical Center in Warrensburg, Missouri. She was born November 25, 1931 to Arthur and Frona (Gattung) Knehans near Higginsville, Missouri. She attended a rural grade school and graduated from Higginsville High School, then attended Central Missouri State in Warrensburg. She worked various places as a secretary and bookkeeper. She retired from Lafayette County C-1 School District in 1996 after being a secretary and bookkeeper in the superintendent's office for 32 years. While her children were young, she was very active as a 4-H club leader and a project leader. She taught Sunday school for many years. She married Gary Mahnken October 27, 1971. She was an active member of the Zion Lutheran Church and was a past church secretary. She was a member of the Dorcas Society and the Atlar Guild. For 45 years Margy and Gary were very active in square dancing. She traveled to many states with her husband for square dancing and were always providing a helping hand. She loved gardening, canning and enjoyed cooking. Her hobbies were sewing, knitting, crocheting, making quilts, embroidery and hand quilting. She was a recent member of the local crochet group. She enjoyed time with her family and especially with her grandchildren and great-grandchildren.
She was preceded in death by her parents; two sons, Jeffery Carl and Donald Kent Baker; and one still born baby girl, Jean Ann Baker.
Survivors include her husband, Gary of the home; twin sister, Mary Ann Vorwark of Higginsville; children, Faye (Gary) Fricke of Corder, Paul (Tammie) Mahnken of Higginsville, David (Becky) Mahnken of Corder; grandchildren, Scott Baker, Gennifer (Ryan) Petersen, Krystal Fricke (Joey Edwards), Travis (Lindsey) Fricke, Gail (Jesse) Dunkle, Ben Myrick, Brad (Allie) Myrick, Steven Mahnken, Joe (Laura) Mahnken, Emily Mahnken, Chris DeVall, Luke (Jennifer) Mahnken, Maria (Jake) Goetz, Zach (Tera) Mahnken, Abbie (Jake) Staton; and 25 great-grandchildren.
The family will receive friends from 6:00 - 8:00 PM Wednesday, January 19, 2022 at the Zion Lutheran Church, 500 North Elizabeth Street, Corder, Missouri 6402.
A funeral service will be held at 10:00 AM on Thursday, January 20, 2022 at the church with Rev. Mark Junkin officiating. Burial will follow in the Zion Cemetery. Casket Bearers: Luke Mahnken, Zach Mahnken, Steven Mahnken, Joe Mahnken, Travis Fricke, Chase Petersen. Honorary Casket Bearers: Scott Baker, Dick Hamel, Glen Dieckemann, Richard Arney, Jim Todd, Chris DeVall, Evan Willams.
Memorial contributions may be made to Zion Lutheran Cemetery or the Immanuel Lutheran School.