Virgil Gemeinhardt
Springfield, Missouri
1994 Caller / Cuer Hall of Fame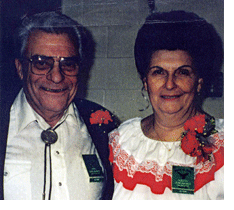 Virgil and his wife Dorothy began square dancing in 1954, and Virgil started calling in 1960. He was the club Caller for many Southwest Missouri clubs, including Aurora Squares of Aurora, Church Mice of Springfield, Duck & Dive of Rolla, Finley River Stompers of Ozark, Frisco Club of Springfield, Lake Stockton Squares of Greenfield, Monday Niters of Springfield, Piney Swingers of Cabool, Queen City Squares of Springfield, Republic Spinners of Republic, Singles of Springfield, Swing Stars of Cassville, Tri Lake Twirlers of Kimberling City, and Weau-Hu Swingers of Flemington.
Virgil promoted the Silver Dollar City Weekend, and served as its Master of Ceremonies for fourteen years. He was also the Master of Ceremonies at two Missouri State Festivals, and attended twelve national conventions. He has called in fourteen states: Arkansas, California, Florida, Hawaii, Illinois, Kansas, Kentucky, Massachusetts, Missouri, Oklahoma, South Carolina, Tennessee, Texas and Wyoming.
In January 1996 Virgil and Dorothy will celebrate their fiftieth wedding anniversary. They have two children and two grandchildren. After retiring from a twenty nine year career as a District Manager for Kellogg Cereal, Virgil enjoys hunting, fishing and spending time at his cabin on Table Rock Lake.
He is the fourth individual inducted into the Missouri Federation of Square and Round Dance Clubs Caller or Cuer Hall of Fame, following Bobby Lightfoot in 1991, Les Robinette in 1992 and Donald Donath in 1993.