Doug Mallory
Cuba, Missouri
2013 Caller / Cuer Hall of Fame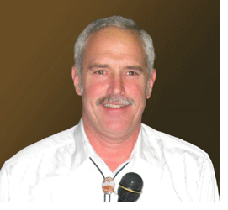 Doug comes from a square dance family; he started dancing at the age of 7 along with his parents. While living in Illinois he started calling at age of 11 at Hoedowners of Wood River, Country Cousins of Bunker Hill, Boots & Slippers of Caseyville and other clubs. He has been calling in Missouri for over 20 years. He has called at several national conventions and many Missouri state conventions.
Doug is the club caller for Duck 'N 'Dive; he is their instructor for new dancer, mainstream and plus classes.
He generously gives of his time for demos including the Rolla Summerfest, St James Grape Jam and Rolla Schools History Day. He is also the co-club caller for Twilight Twirlers.
He goes beyond square dance calling, by putting his time and effort into making square dancing fun. One of his most popular activities is the mystery bus trip. For over 15 years they have gone to Ohio, Iowa, Arkansas, Indiana and Missouri, visiting various venues and calling some square dancing.
He volunteers his time working and teaching square dancing for schools, nursing homes, Municipal Opera, Boy & Girl Scouts, 4-H groups, and other community events.
Doug lives in Cuba, Missouri with his wife of 30 years, Janine; they have two children Kristy and Renee.
He has worked 40 years for Amerigas, Along with his square dance activities he enjoys spending time with his family and helping care for his parents.
This year - 2013 - Doug was selected as the Missouri "Caller / Cuer Hall of Fame" recipient.