Tony & Carolyn Ahart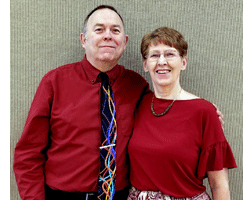 Carolyn has been round dancing since 1993 and Tony since 2006. This is their 6th year cueing and 5th year teaching.
They are members of Roundalab, ICBDA, Missouri Round Dance Association, Oklahoma Round Dance Association, Missouri Federation of Square and Round Dance Clubs.
They are past presidents of the Missouri Federation of Square and Round Dance clubs, and were Directors of MC's for both the 62nd and 63rd National Square Dance Conventions.
They have a club (Twirl-A-Rounds) in Springfield, Missouri, that offers weekly lessons and a phase 2 thru 4 dance every Wednesday. They also cue at several local square dance clubs.
Their choreography includes I Love to Watch a Woman Dance, I like You, Don't Stop, Somebody Done Somebody Wrong, and Rhythm Divine.