Dee Dee Dougherty-Lottie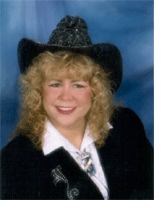 Dee Dee started Square Dancing at the age of 3, and was clogging in an exhibition square dance team by the age of 6. She's been Calling & Teaching for over 30 years both Full Time & Travelling Nationally & Internationally. Square Dancing has been her whole life. She also loves Teaching & Cuing Line Dances! She works the winter months in Mesa/Casa Grande, Sun City, and Florence, Arizona.
She lives in Minneapolis, Minnesota from May thru Nov. Traveling/Calling through the Summer on the Road. For the Winter months she works a Full program, Nov. thru May, & continues to Fly out for Weekends, & Festivals & Conventions.
Dee Dee has Called at over 30 National Conventions in 50 states, as well as Denmark, Japan, England, Sweden & Germany. She has been on Staff with: All Star Festival (Las Vegas, Nevada), Spring Extravaganza (Indianapolis, IN), Fun Valley (South Fork, Colorado), English Mountain (Sevierville Tennessee), Queen City Ball (Charlotte, North Carolina), Birmingham Blast (Birmingham, Alabama), Florida Festival (Lakeland, Florida), Best Little Weekend in Texas (Waco, Texas), Chula Vista Resort (Wisconsin Dells, Wisconsin), Daytona Beach, Florida), Kirkwood Lodge (Lake of the Ozark, Missouri), Winter Festival (Waco, Texas).
She Also Teaches One-Niters, Corporate Parties, Weddings, Girl/Boy Scouts, School/Church Groups, and Any Age group that's interested in Various Types of Dancing and/or DJ of sorts! Dee Dee is a member of Callerlab (& served on the Board of Governors for 6 years), Minnesota Square Dance Callers Association (MSDCA), & National Teacher Association for Country Western Dance (NTA). She is BMI/ASCAP licensed & presently a Recording Artist with RHYTHM RECORDS. Her Latest Tunes are: American Honey, Call Me Maybe, I Need You Now, Sin Wagon, Gimmi Gimmi, Soak up The Sun, Turn On The Radio, Honey Honey, & Feelin' Kinda Lonely & many more. She's also recorded Small World, Rockin' in Rosalie's Boat, & Global's God Bless the USA Foundation Project!