September 2023
Western Twirlers Square Dance Club
Square Dance Center
1801 West 2nd Street
Joplin Missouri 64801
The Western Twirlers Square Dance Club was established in 1948 in Joplin, Missouri. They were first known as the American Legion Promenadors, with Bud Buzzard as club caller. At that time, the club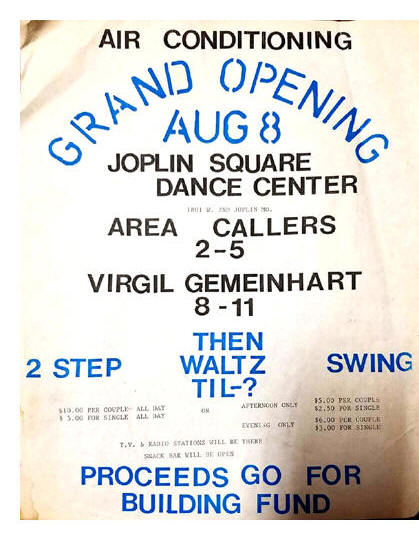 belonged to the Tri State Square Dancing Association and the Northeast Oklahoma Square Dance Association. It joined the Missouri Federation of Square and Round Dance Clubs when formed in 1959.
The club danced at several locations in Joplin before building the present Square Dance Center. In the early 1980's, the club decided to build a square dance facility for all area clubs to use. In 1982 a board was formed to find a location and raise the necessary funds. Land was purchased on West 2nd Street in Joplin on December 6, 1983, for a cost of $2,700.00. In 1985 construction began on the 100 ft X 50 ft building at a cost of $30,000.00. Tremendous support came from the local dancers, many of whom volunteered their time to help in the construction of the building. Many benefits were held to raise needed funds, including the Memorial Board, where dancers gave a donation to have their name engraved on the board. The Memorial Board still hangs behind the callers' stage to show great appreciation for the past dancers' efforts. The Grand Opening Dance was held on August 8, 1986, with area callers for an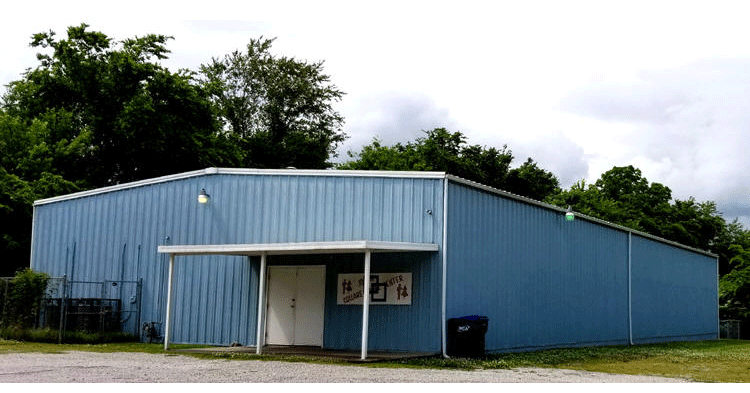 afternoon dance, and Virgil Gemeinhart from Springfield calling the evening dance. The building originally had a tile-over-concrete dance floor, which was replaced with the current wood floor in 1997 at a cost of $25,000.00. The dance floor can hold twelve squares comfortably, and there is a full kitchen, large bathrooms, and table area for socializing.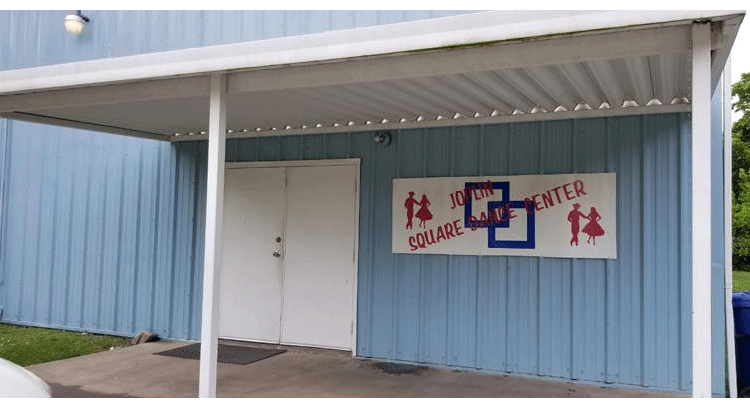 In 1958 Floyd Sill took over as club caller from Bud Buzzard, and in 1959 the club's name was changed to Western Twirlers. Floyd Sill retired in 1987 after calling for more than 29 years, handing the reins to Van Greenwood who became club caller from 1988 to 2010. Van called for more than 60 years in the four-state area. He and his wife Elfrieda remained active members until his passing in 2018. They were always present at the 1st table to greet everyone. They also served on the Square Dance Center board. Elfrieda still dances with the club today. Notable past presidents of the board also include Wayne and Doris Donham, who joined in 1978. Sadly, we lost Wayne in 2019, but we still feel his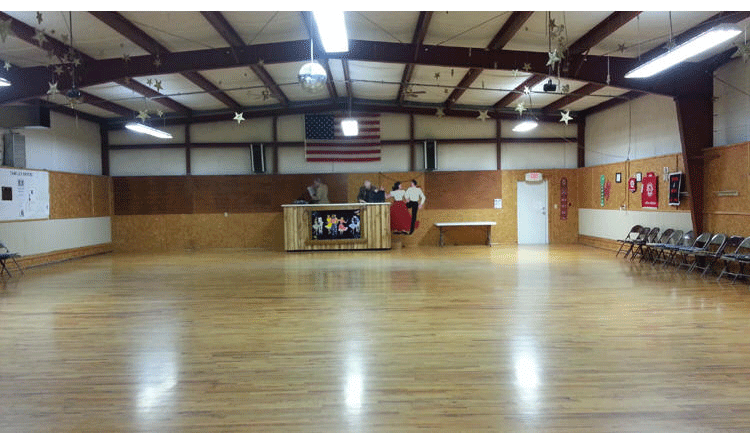 presence as he always swept the wood floor after every dance, as we still hear Van calling. After Van Greenwood retired, we used guest callers. Then John Eubanks became club caller in 2019. He and his wife Karen had previously held offices of Secretary and Vice President of the Southwest District in the early 1970's about the time he began calling. John served as club caller until he retired in 2021 after more than 50 years of calling.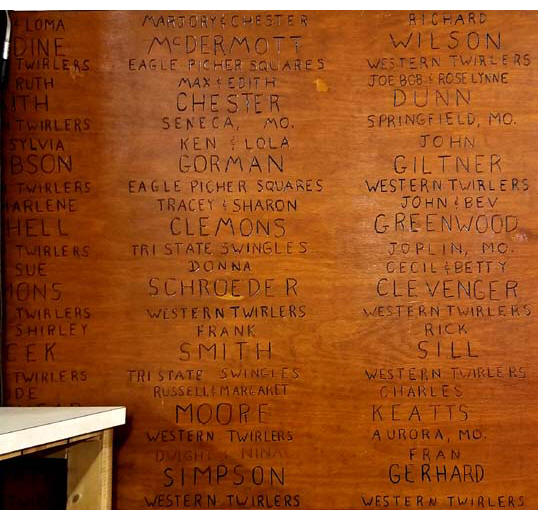 Currently, the club is proud to have Jay Wright as club caller since 2022.
On November 9-10, 1963, the 3rd Annual Missouri State Festival was held in Joplin at the famous Connor Hotel (built in 1906 with a grand staircase made of marble) at 4th and Main. The Saturday evening dance was held at R & S Stadium at 3rd and Virginia. At that time, the State Presidents were Ray and Georganna McCully. This was also the first year for souvenir program books. The state dance had live music and included round dancing. In 1968, the State Festival was again held in Joplin at the Memorial Hall. In 1998 the State Festival was once again held in Joplin at the High School, with the theme, "Bee at State in 98". The Saturday night after party was held at the Square Dance Center beginning at 11:00 pm -??? It was a packed house! Everyone enjoyed dancing on the nearly new wood floor.
National Square Dance Conventions held in Missouri were 1975 in Kansas City, 1993 in St Louis, and 2018 again in Kansas City.
The Western Twirlers club has been through many changes and challenges through the years: from dancing every Saturday night, to dancing the 1st, 3rd & 5th Saturday night, then to dancing the 1st and 3rd Saturday night each month. In 2011 the club changed to dancing only once per month.
Some interesting history: In 1982, the Southwest District had 44 clubs. Today there are 9 clubs. In 1983 Club dues were $3.00 and the Show-Me Doin's magazine was $5.00. Missouri ranked 6th in the world in Square Dance Clubs. In 1984 the State Festival had 1,260 registered dancers, making this the largest festival so far. In 1995, membership in Missouri consisted of 132 clubs, and the State Festival had 900 dancers. Missouri Governor Mel Carnahan signed a bill to make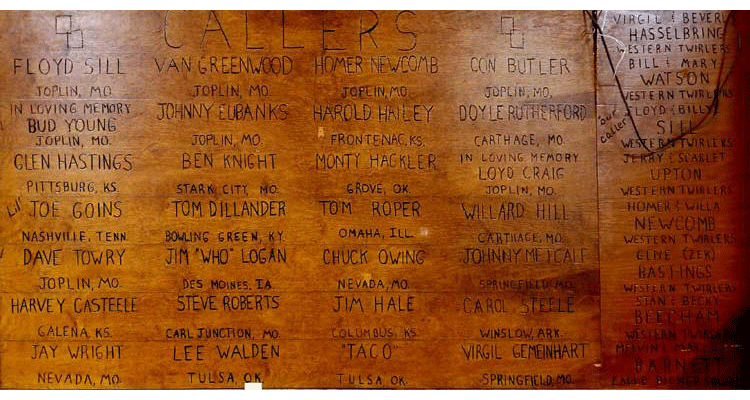 Square Dancing the Official American Folk Dance in Missouri. Currently 31 states have designated Square Dancing as their State Folk Dance. The Missouri Square Dance license plate bill was passed, but was vetoed by the Governor, however, it did pass in 1999. In 2010 a Facebook page was set up for the club, along with an email address for extra contact information as we moved into the internet world. On May 22, 2011 an F5 tornado tore through Joplin's center section. The Square Dance Center was not damaged, but several past and present members lost their homes.
The Western Trailers and the Square Dance Center have hosted too many benefits to count over the years. Many thanks to all those who are passed who started this club, envisioned the building, and have been members. I had the privilege of knowing a lot of them since I started dancing in 1987. Thank you to the original board members, Jerry & Scarlet Upton, Bill & Mary Watson, Cecil & Betty Clevenger, and Wayne & Doris Donham. Also, many thanks to the Tri State Square Dance Association (which no longer exists), the Northeast Oklahoma Square Dance Association, the Southwest District, and the Missouri Federation of Square & Round Dance Clubs. Through these 75 years we have gone from a very large club to a small club. We are still here to remember the past and look forward to the future. Since 2022 we have had two classes of lessons and have gained several new members to keep our tradition alive.
Shirley Winans, Secretary
Western Twirlers Square Dance Club
Joplin, Missouri
E-Mail