Missouri Federation of Square & Round Dance Clubs Scholarship 2018 Winner
Hannah Gentry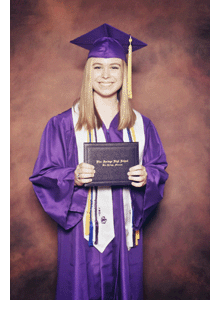 The Missouri Federation of Square N' Round Dance Clubs' scholarship recipient for the 2018-19 school year is Miss Hannah Gentry. Hannah is the daughter of Richard and Becky Gentry of Blue Springs, Missouri and the granddaughter of Mark and Peggy Gentry of Cassville, Missouri. She graduated from Blue Springs High School, Blue Springs, Missouri. She has been a member of the National Honor Society and earned the Academic Excellence Award each year in high school.
Hannah participated in DECA earning first place at district qualifying for state DECA competition. During high school, Hannah worked 50 hours tutoring in math and science, worked over 100 hours for the Compass Service Program and served on four week-long mission trips with the Woods Chapel United Methodist Church (UMC) youth group.
She has been employed at Olive Garden as a hostess from 2016 to the present. She plans to attend Missouri State University in Springfield, Missouri this fall and to major in criminal justice.
We congratulate Hannah and wish her much success in her future endeavors.
Congratulations!