Missouri Federation of Square & Round Dance Clubs Scholarship 2019 Winner
Caleb Ridings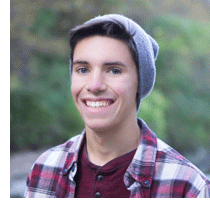 The Missouri Federation of Square N' Round Dance Clubs scholarship recipient for the 2019-2020 school year is Caleb Ridings. Caleb is the son of Scott and Lori Ridings of Lee's Summit, Missouri and the grandson of Bob Pemberton of Columbia, Missouri.
He graduated from Blue Springs South High School. He has been a member of the National Honor Society and earned the Degree of Distinction in National Speech and Debate Association in high school. He was a member of the FCA Leadership Team and lettered two years in band.
Caleb volunteered at Owl Hollow Farms in 2017, completed his Eagle Scout project late in 2017, and received his Eagle Scout Award in 2018. He has volunteered at Harvesters and American Cancer Society Hope Lodge. He has been employed at Outback Steakhouse from January 2019 to the present. He plans to attend the University of Missouri-Columbia to major in International Law.
We congratulate Caleb and wish him much success in his future endeavors.
Congratulations!