William B. Morris Memorial Scholarship
2016 Winner
Danielle M. Roberts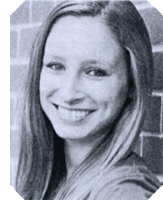 The recipient for the 2016-17 school year of the William B. Morris Memorial Scholarship of the Missouri Federation of Square and Round Dance Clubs is Miss Danielle Roberts. Danielle is the daughter of Rob and Linda Roberts of Puxico, Missouri and the granddaughter of Larry and Sharon Crisel of Puxico, Missouri.
Danielle is a 2016 graduate of Puxico High School. She was a member of the Puxico High School marching and concert band since junior high, a BETA Club member during high school as well as a member of the FCCLA and Future Business Leaders of America. She has been very involved in athletics by playing high school basketball and being named the most valuable player her junior year and playing softball all four high school years, making the all-district team her junior and senior years. Danielle has been a member of the Puxico Warriors 4-H Club since 2006, holding various offices and attending 4-H Move Across Missouri for four years. Danielle has also found time to work by being a child-care provider and a softball umpire.
Danielle plans to attend Three Rivers Community College in Poplar Bluff, Missouri, this fall to begin a career in physical therapy. We congratulate Danielle and wish her much success in her future endeavors.
Congratulations!