William B. Morris Memorial Scholarship
2017 Winner
Alysa Walker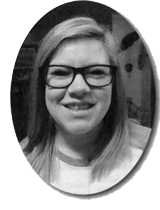 The recipient for the 2017-18 school year of the William B. Morris Memorial Scholarship of the Missouri Federation of Square and Round Dance Clubs is Miss Alysa Walker.
Alysa is the daughter of Christopher Walker and Jennifer Stafford of Festus, Missouri and the granddaughter of John and Bev Stuart of Festus, Missouri. Alysa is a 2017 graduate of Jefferson County R-VII High School in Festus, Missouri. She has been very involved in square dancing as a member of the Jefferson County Squares and is a member of the square dance exhibition group, Razzle Dazzle. Alysa was a cheerleader for her school during her high school years, and she also found time to work during high school at Jefferson County Parks Department, Donut Place and at the present time Captain D's.
Alysa plans to attend Jefferson County Community College in Hillsboro, Missouri, this fall. We congratulate Alysa and wish her much success in her future endeavors.
Congratulations!