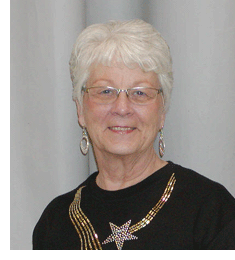 Karen Craig - 1941-2017
Karen Kay Craig, 76, Hatfield, Missouri (formerly of Independence, Missouri) passed away Tuesday, November 14, 2017 at North Kansas City Hospital, North Kansas City, Missouri.
She was born March 10, 1941 in Harrison County, Missouri the daughter of Skyler King and Letha Mattie (Ratliff) LaFollette. On August 24, 1968 she married James "Bert" Craig in Ridgeway, Missouri. He preceded her in death.
She was also preceded in death by her parents; sisters, Winifred Ella Champlin and Brenda Sue Todd; and brother, Gail LaFollette.
Karen worked for the Independence school system as a secretary and also at H&R Block in Lamoni, Iowa, for Peggy Cracraft.
She was a member of the Red Hat Society, Road Runners, Cross Trailers, and Two State Steppers Square Dance Clubs and was a square dance caller across the state.
She attended many National Square Dancing Conventions and was also the president of the Ridgeway Alumni Association.
Karen is survived by her children, John R. (Randy) Hallock, Rita Kay (Steve) Schowengert, Richard (Michelle) Hallock, Brenda (Rodney) Stoll, and Sharon (Howard) Spenser; grandchildren, Randa, Bryon, Morgan, Reed, Amy, Sara, Craig, Chad, Tara, and Hayli; brother, Curtis (Bonita) LaFollette; sister, Sharon (Arvol) Adams; brother-in-law, Tom Champlin; great grandchildren; several nieces, nephews, and friends and many card playing friends.
The family will receive friends:
Sunday, 11/19/2017, 3:00 - 5:00 PM
First Christian Church
18387 US-69
Eagleville, Missouri 64442.
The First Christian Church is one mile south of Eagleville, Missouri on US-69. If your GPS is unable to find the church using Eagleville, Missouri as the town, use Ridgeway, Missouri.
The Funeral Service:
Monday, 11/20/2017, 10:00 AM
First Christian Church
18387 US-69
Eagleville, Missouri 64442.
Burial will follow in Masonic Cemetery, Eagleville, Missouri
In lieu of flowers, memorials may be made to the Eagleville Christian Church and/or Masonic Cemetery in care of Roberson Funeral Home, P.O. Box 46, Eagleville, Missouri 64442-0046.
Online condolences may be left at www.RobersonFuneralHome.com.
Services are being handled by the Roberson Funeral Homes of Bethany.