Edith Y. Donath
May 3, 1922 ~ December 10, 2020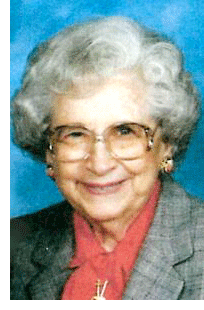 Edith Yvonne Donath, age 98, of Sedalia, passed away Thursday, December 10, 2020, at her home.
She was born May 3, 1922, in Spring Hill, KS, daughter of John Mason Morgan and Beulah Hensey Morgan. On March 22, 1947, in Sedalia, she was united in marriage to Dr. Donald W. Donath, who preceded her in death on June 6, 2014.
Edith graduated from Smith-Cotton High School in 1940. She received three degrees from Central Missouri State University: a B.S. in Education with a music major, a Master's degree, and an Education Specialist degree.
Mrs. Donath spent her career teaching the young people of Pettis County. She began teaching in 1942 at Olive Branch, and spent the following year at Salem. Then she taught vocal music at the following schools: Sunnyside, Bothwell, Georgetown, Smelser, Walnut Grove, Prairie Hill, Oak Point, Jackson, Bennett, Anderson, Camp Branch, Mosby, Liberty, Walnut, Lone Star, Pacific, Bunker Hill and Arator. In 1953, she began teaching vocal and instrumental music for the Sedalia School District, retiring in 1986 after 33 years.
She assisted Don in directing Camp Bob White at Knob Noster State Park for 13 summers. This was a camp for west-central Missouri 4-H members and children from the Kansas City Neighborhood House Association.
She was a member of Delta Kappa Gamma since 1959, and had served as the Missouri president in 1985-86 and 1988-89. She was awarded the Delta State Achievement Award in 1994 and the Show-Me Council Award in 1997.
In 2013, she was awarded the Distinguished Alumni Award by the Sedalia School District Foundation, and was presented a Missouri House of Representative's Resolution.
In 2002, she was awarded the Lifetime Achievement in the Arts award.
In 1983, she was awarded the Maestro Award by the National Association of Round Dance Teachers.
She was a lifetime member of the National Education Association and Missouri State Teachers Association. She was a member of the Sedalia School District Foundation and National Music Educators Association.
Edith was a member of SOROSIS, and the Helen G. Steele Music Club, serving as president for two years. She was also a member of Epworth United Methodist Church, joining in 1928.
She and Don taught dance for the Sedalia and Warrensburg communities, and specialized in square dance.
Surviving are Edith's nieces and nephews by marriage: Patty Morgan, Michelle Donath, David Moore, Diane Penland, Margaret Ann Trout, Sharon Nelson, Judy Moore and James Clyne; and her dedicated caregivers, Kay Forsythe and Pat Simpson.
In addition to her husband and parents, she was preceded in death by a sister, Permelia Shoemaker; brother-in-law, Dee Moore; and two nephews, Gary Moore and Dr. Larry Mosby.
Due to the pandemic, a private family graveside service will be held. A Celebration of Edith's life will be held at a later date when it's safe to do so.
Friends may pay their respects and sign the guest book between 8:30 a.m. and 5:00 p.m. Tuesday, December 15, 2020, and Wednesday, December 16, 2020.
Burial will be in Crown Hill Cemetery.
Memorials are suggested to Epworth United Methodist Church or the Sedalia Symphony Orchestra, in care of Heckart Funeral Home, P.O. Box 434, Sedalia, Missouri 65302.