Van Greenwood 4/3/30 - 10/14/18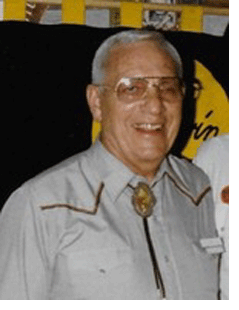 Van Howard Greenwood, age 88, of Joplin, passed away on Sunday October 14, 2018, at his home, following an illness.
Van was born on April 3, 1930 in Jasper County, the son of the late LeRoy V. and Mildred A. (Randall) Greenwood. He has been a lifetime area resident. He worked for Vickers, Ferrick Candy, and was an insurance salesman for Prudential. He was also a meat cutter. He was a longtime member of Park Plaza Christian Church. Van was a square dance caller for over sixty-two years. He was a member of the Missouri Square Dance Hall of Fame.
He married Elfriede Lochner on August 14, 1982 in Joplin, Missouri, and she survives. Additional survivors include six daughters; Susan K. Schriever and husband Roland, Wildwood, Missouri, Sandra J. Nienhaus and husband Tom, Wildwood, Missouri, Ellen Musick, Pennington Gap, Virginia, Paula Smith and husband Larry, Fair Grove, Missouri, Janice Harris-Gilmore and husband Danny, Willard, Missouri, and Linda Brown and Don, Marshfield, Missouri; two brothers, Donald L. Greenwood and wife Glenda, of Nebraska, and John W. Greenwood and wife Beverly, Joplin, Missouri; two sisters, Peggy A. Cochran, Webb City, Missouri, and Judy Muir and husband Larry, Columbia, Missouri; fifteen grandchildren; many great-grandchildren and great-great-grandchildren. He was preceded in death by one grandson, Chad Smith; one granddaughter, Rachelle Gordon; and one sister, Betty Tudenham.
Funeral services will be 11:00 AM Wednesday at Park Plaza Christian Church. B.A. Austin will officiate. Burial will be in Ozark Memorial Park Cemetery.
The family will receive friends at 10:00 AM Wednesday at the Church, prior to the service. Memorial contributions may be given to Park Plaza Christian Church in care of the mortuary.
Arrangements are under the direction of Mason-Woodard Mortuary & Crematory.
Park Plaza Christian Church
3220 Indiana Avenue
Joplin, Missouri 64804
Cards can be sent to:

The Greenwoods
3421 Finley Avenue
Joplin, Missouri 64804-4144