Ron McCravy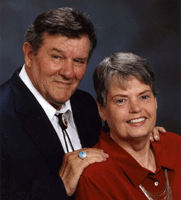 Mary McCravy (his wife) stated that Ron passed away on their 57th Wedding Anniversary. They were the parents of two children, three grandchildren, and two great grandchildren.
At the present time, they reside in Mountain View, Missouri, Ron had been a square dance caller for many years. He formerly called for the Wentzville Grand Squares and Circle M Squares in Old Monroe, Missouri, Ron had an exhibition group called the "St. Louis Cordels" and had a plus workshop for 8 years in O'Fallon, Missouri.
He was awarded "Caller of the Year" in 2002 by the Missouri Federation of Square and Round Dance Clubs. He belonged to Callerlab, the Mid Missouri Callers Association, and formerly the St. Louis Callers Guild.
In 1976 he did the Yankee Doodle Dance with Max Forsyth, and in the 1980's to the mid 1990's he called with Harold (Dobby) Dobsch at the Meramec Cavern Dances. When Bill Stevenson passed away, Ron took over as caller for the Roadrunners,
Ron loved children. In the 1970's, he did a workshop for the Happy Tappers. His daughter danced with the Happy Tappers. As a volunteer, he taught school children from 3rd grade to high school for many, many years.
Ron called in eight different states and three countries. He took a square dance tour to Ireland.
He was a devout Christian and very active in Church.