Claude O. Ross, Jr.
Claude O. Ross, Jr., 85, Lake Tapawingo, Missouri passed away July 14, 2018.
Memorial visitation will begin at 4:00 PM, followed by a Celebration of Life at 6:00 PM, Thursday, July 26, 2018, at the Lake Tapawingo Clubhouse, Dockside Drive, Lake Tapawingo, Missouri 64015.
In lieu of flowers, the family requests contributions to Great Plains SPCA at www.GreatPlainsSPCA.org or Tiny Veterans ' Home at www.VeteransCommunityProject.org.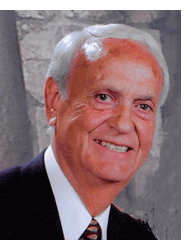 Claude was born March 31, 1933 in rural Johnson County, Missouri and graduated from Warrensburg High School. He married his high school sweetheart, Glenda Crisp, in 1953. He enlisted in the U.S. Army and served two years at Ft. Bliss in El Paso, Texas. He was a manufacturer 's rep for most of his professional career. In the 1970 's he became a professional square dance caller and traveled all over the country. In 1983, he and his wife spent their Winters in Arizona where he was a Square Dance Caller at a resort. They then moved there permanently in 1986 as he managed a resort and called for many more clubs. They returned to their home in Lake Tapawingo in 1997 and Claude resumed his sales career. He was a Baptist of deep faith. He was a conservative Constitutionalist and a patriot. He enjoyed his family most of all also the great outdoors, fishing and camping.
Claude is survived by his wife Glenda Ross, of the home; son Steve Ross and wife Debi, Apache Junction, Arizona; daughters Pam Lindmark, Grain Valley, Missouri; Lisa Scott and husband Virgil, Sitka, Alaska; Vicki Jo Kulstad and husband Rod, Blue Springs, Missouri; Cheri Fraley, Lake Tapawingo, Missouri; ten grandchildren; twenty-two great-grandchildren and two great-great-grandchildren.