Join the growing number of square dancer tags on the road?
Let everyone know you're proud to be a square dancer. Cruise down the highway porting your brand new red, white, and blue square dance logo plates!!
Best of all, by contributing a minimum of $25.00 to the Square Dance License Plate Fund, you'll be promoting this wonderful activity. You must be a Missouri resident and a member of the Missouri Federation in order to participate.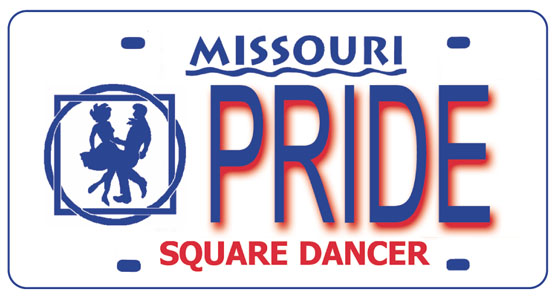 It's As Easy As 1-2-3...

1.

Complete the Order Form and mail it along with your check for $25.00 to the Missouri Federation License Plate Coordinator. You'll receive approval for your use of the Square Dance logo and easy instructions for obtaining your license plates.

2.

When ordering personalized Square Dance License Plates, you may choose a combination of up to six (6) characters....including letters, numbers, and a space, apostrophe, or hyphen. Be prepared with several acceptable choices.

3.

The Missouri Division Of Motor Vehicle & Drivers Licensing will notify you that your plates are ready. Take your current plates to your local office and exchange them for your new, personalized plates.

For More Information Contact The Missouri Federation License Plate Coordinator:

Catherine McLemore
3351 East Seminole Street Springfield, Missouri 65804-3522
417.689.8984
E-Mail
Frequently Asked Questions:

Q:

Can my plates say the same thing as other personalized plates?

A:

No. The Missouri Department of Revenue will issue only one set of plates with the same configuration.

Q:

May I transfer my current personalized plates to Square Dance plates?

A:

Yes. When your new plates arrive, you will surrender your old ones.

Q:

In what month do these plates expire?

A:

In Missouri, all vanity plates, including these, expire in July.

Q:

What is the total cost?

A:

In addition to the $25.00 per year contribution to the Missouri Federation License Plate Fund, applicants must pay the Department of Revenue the normal personalized plate fee of $15.00 per year, plus the regular registration fee as prescribed by law. This total cost is payable annually or semi-annually upon renewal.