Donald Gerald Kramme
Donald Gerald Kramme, 73, of St. Louis, Missouri died August 25, 2018.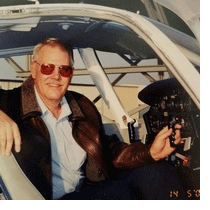 Don, son of Amandus and Lillian Kramme, passed away on August 25, 2018, after battling congestive heart failure for many months.
He is survived by three children, Lana, Colleen and Steve; partner Nelda; and sisters Jean and Janet. He was also the grandfather of five grandchildren, Jack, Lily, Drew, Bella and Jacey.
Kramme worked at the helm of his carpet restoration business for decades, living out his dream of entrepreneurship and independence. He loved flying, NASCAR, and square dancing, and shared his passions with loved ones and friends.
A true gentleman, Don will be greatly missed.
A Memorial Open House will be held on Sunday, September 9, 2018, at Schrader Funeral Home and Crematory, 14960 Manchester Road at Holloway, Ballwin, Missouri, from 2:00 - 6:00 PM with a Memorial Service conducted at 5:00 PM.