Loretta Mae Portell
Loretta Portell , age 90 of Festus, Missouri, passed away Wednesday, April 13, 2016 at Mercy Hospital Jefferson in Crystal City, Missouri. She was born May 27, 1925 in Ste. Genevieve, Missouri, the daughter of the late Delia (nee Rayoum) and Edward Smith.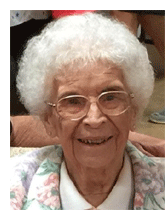 She is survived by her husband John Joseph Portell; daughters Beverly (John) Stuart of Festus and Donna (Kenny "Ray") Stafford of DeSoto, Missouri; sons Richard (Julie) Portell of Oakville, Missouri, Tim (Kim) Portell of Crystal City, and Gordon (Susie) Portell of DeLand, Florida; sisters Dorothy (the late John) Lindsey of Hillsboro, Missouri, Imelda (the late Norm) Ritcher of Festus, Mary Ann (Jim) Roesche of Festus, Ruth Ann Fox of Festus, and Ella Mae (the late Charles) Turley of Bloomsdale, Missouri; brother Roy Lee (Leslie) Smith of Leadington, Missouri; 12 grandchildren; and 21 great-grandchildren.
In addition to her parents, she is preceded in death by sisters Rosalie (the late Edmund) Huber and Zelma (the late Wally) Bange, brothers Sylvester Smith, Joseph Smith, and an infant brother; and one great-grandson.
She was a member of Sacred Heart Church in Crystal City and the Legion of Mary.
Visitation 4:00 - 8:00 PM Monday, April 18, 2016, at Vinyard Funeral Home in Festus. Memorial Mass Tuesday, April 19, 2016, at 10:00 AM at Sacred Heart Church in Crystal City. Interment in Sacred Heart Cemetery in Crystal City. Memorials in her memory are preferred to Sacred Heart Church.