Eleanor A. (Lawbaugh) Stover
(February 18, 1932 - April 22, 2013)
Eleanor A. (Lawbaugh) Stover, 81, of Climax Springs, Missouri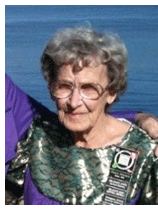 passed away April 22, 2013 at Lake Regional Health Systems in Osage Beach, Missouri. She was born on February 18, 1932 in Eldon, Missouri, the daughter of the late Fred & Nellie (Duby) Lawbaugh. She moved to Kansas City, Missouri in 1948 and attended Manual High School. She was united in marriage in 1951 to John Stover who survives of the home.
Eleanor was employed with the Children's Mercy Hospital in the Print Shop and worked part-time for many years at the American Royal and retired from the Kansas City Royals in 1993. After retirement, Eleanor & John moved to the Lake of the Ozarks. They have been square dancers since the mid 50's and have held offices in the Missouri Federation of Square & Round Dancers. They received the Square Dancers of the Year Award in 2010.
Her parents, Fred & Nellie Lawbaugh, a brother, Lyle Lawbaugh, two sisters, Letha Cotsworth & Louella Falk, and a daughter, Karen Risley preceded her in death.
She is survived by her husband of 61 years, John Stover, a daughter, Deborah Jackson, a son, John Edward Stover & his wife Karen, a brother, Jerry Elliot & his wife Carol, six grandchildren, ten great grandchildren, many nieces & nephews and many close friends.
Visitation will be on Saturday April 27, 2013 from 2:00 PM - 4:00 PM at Phillips Funeral Home of Eldon, Missouri with Funeral Services at 4:00 PM. Private Family Interment will be held at the Eldon City Cemetery at a later date.
In lieu of flowers, Memorials for Eleanor are suggested to the Children's Mercy Hospital of Kansas City, Missouri .
Arrangements are under the direction of Phillips Funeral Home of Eldon, Missouri .
See Also John Stover