John E. Stover
November 25, 2019
John E. Stover, 86, of Climax Springs, Missouri passed away Monday, November 25, 2019 at his residence in Climax Springs.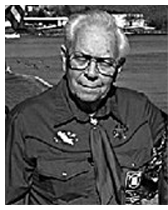 He was born July 23, 1933 in Kansas City, Missouri the son of the late John F. Murphy and Marie K. (Knoch) Murphy. In 1951 he was united in marriage to Eleanor A. (Lawbaugh) Stover who preceded him in death on April 22, 2013.
Survivors include, Daughter, Deborah (Stover) Jackson of the home Son John E. Stover (Karen) of Gladstone, Missouri Grandchildren, April, James, David, Amy, Melissa & Kelly Thirteen Great Grandchildren & Two Great Great Grandchildren A daughter, Karen (Stover) Risley and a son in law, Tom Jackson preceded him in death.
John and wife Eleanor had been square dancers since the mid 1950's and have held offices in the Missouri Federation of Square & Round Dancers. They received the Square Dancers of the Year Award in 2010. John was the president of the Ozark Whirler's of Eldon, Missouri.
After his retirement, they moved from Kansas City, Missouri to the Lake of the Ozarks.
Visitation will be Saturday, December 7, 2019 from 2:00 - 4:00 PM at Phillips Funeral Home of Eldon, Missouri, with the Funeral Service beginning at 4:00 PM with Charles Cotsworth officiating.
Private Interment will be held at the Eldon City Cemetery at a later date where he will be laid to rest beside his wife Eleanor.
Memorials in his name are suggested to the charity of choice. Arrangements are under the direction and care of Phillips Funeral Home of Eldon, Missouri.
Cards May be sent to the:
Stover Family
1080 Buckridge Road
Climax Springs, Missouri 65324
See Also Eleanor Stover