Herbert Alfred Werner March 9, 1922 - February 22, 2010
Herbert Alfred Werner, March 9, 1922 - February 22, 2010, Millstadt, Illinois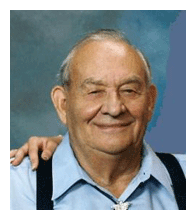 Visitation: 4:00 - 8:00 PM February 26, 2010 at Strauss-Leesman Funeral Home in Millstadt, Illinois
Funeral Service: 10:00 AM February 27, 2010 at Zion Lutheran Church (1810 McClintock Avenue) in Belleville, Illinois, with Rev. Brian Downs, officiating
Interment: February 27, 2010 at Mount Evergreen Cemetery in Millstadt, Illinois
Herbert was preceded in death by his parents: Hugo Ernst and Christine Ida, nee Toennies, Werner and a son: John Werner. He is survived by his wife of 59 1/2 years Martha Werner, nee Keitel, his son: Paul (Patty) Werner, three daughters: Carol Werner, Susan Friesen and Kristie (Richard) Gladhill. Grandchildren; Judson Werner, Garrett Werner, Allyson Werner, Elizabeth (Avery) Roscoe, Andrew Gladhill and Ethan Gladhill. Two brothers: Ernest Werner and Robert (Charlotte) Werner. He is also survived by nieces, nephews, cousins and other relatives and friends.
Herbert first started working in the family business Werner Greenhouse's in Millstadt, he went to work for George Weis Company in Millstadt in 1960 as a truck driver and later worked at Mollman Publishing in Millstadt. He was a member of Zion Lutheran Church in Belleville, IL., and he was an elder at the church for many years. He enjoyed square dancing and was past president of the St. Louis Square Dance Federation, he and his wife were active members in the couples club at Zion Lutheran Church, and Herbert loved boating, camping and woodworking.
Memorials may be made to Zion Lutheran Church in Belleville, Illinois.